Item(s):
CopperColour 1M RCA-RCA Interconnects - PennyII and 1st Anniversary
Package includes:
Cable and packaging
Price:
PennyII - RM170, 1st Anniversary - RM400, price is inclusive of postage
Warranty:
1 year local warranty
Dealing method:
COD at Ipoh or bank in and postage for the rest of Malaysia
Location of seller:
Ipoh
Contact method/details:
PM or Contact me at 012-5690433 Steve.
Age of item:
Brand New
Special offer:
10 days satisfaction guarantee else refund with minor term.
---
Item(s) conditions:
Brand New
Picture: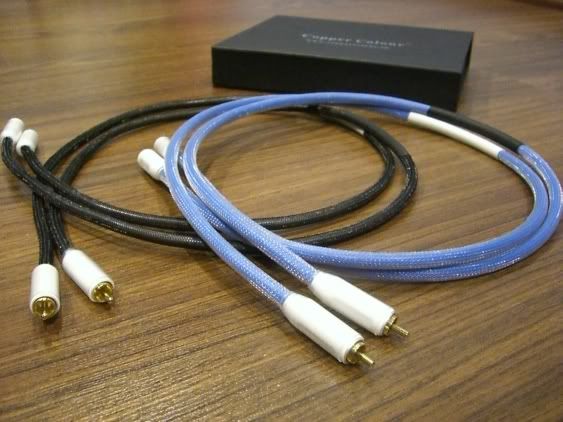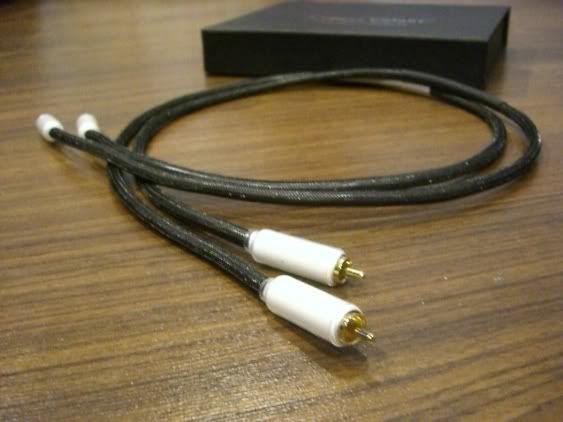 Penny II RCA-RCA Interconnect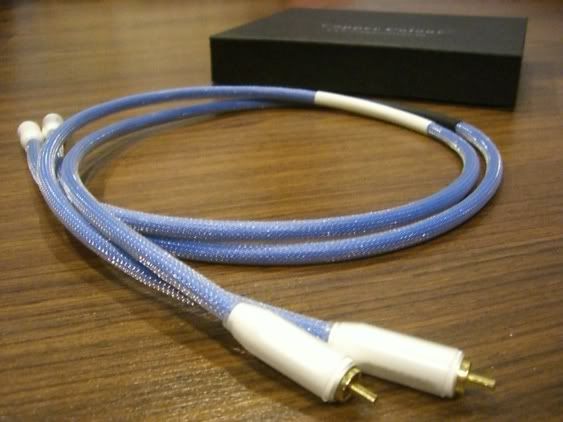 1st Anniversary RCA-RCA Interconnect
Review:
1st Anniversary Interconnect VS Award winning VDH D102MKIII -
http://forum.lowyat.net/index.php?showtopic=1113935&view=findpost&p=28643158
First at all, i will really really want to appologize that i took extra long time to come up with these review.. it's due to that the difference of the 1st anniversary cable vs VDH is quite subtle.. and changing the interconnect over and over again to hear same track is much harder than i ever imagine. especially my amp were rest on graphite / ceramic footer which they don't get a good grip to my pure marble platform. a wrong move might drag the whole amp down to the floor.
Again.. i am truly sorry for long delay.
Review to Copper Colour cable.
SETUP
CD-Player: Marantz CD-46 CDP (with Black Diamond Racing Cone)
Amp: Audio Analogue Primo Settanta (with Xindak graphite Ceramic ball cone)
Speaker : Sonus Faber Concertino Domus with Original Dedicated stand, and Original spike shoe of Sonus Faber. Speaker is fully burned in for 1.5 years.
Speaker Cable: QED XT350 with airlock Banana Plug.
Before I start the comparison of copper colour cable against Van den Hul D102 cable, i had requested permission of extend 1 week of my review time in order for me to fully burn in both the copper colour cable. Initially their sound is way below my expectation as they sound rather harsh to my ear. After weeks of serious burn in of the copper colour cable shows very positive improvement which makes them possible contender to Van Den Hul D102 MKIII Cable that I had made by myself. The Van den Hul D102 MKIII cable were 1 meter pair, soldered with WBT silver soldering lead, and terminated with Neutrik pro-fi RCA plug by myself.
Below were the descriptions of cables sound characteristic:
1. Anniversary Cable (RM 400) (AKA Anniversary Cable)
2. Van den Hul D102 MKIII (DIY price RM 550) (AKA VDH)
3. Penny ( RM 170) (AKA Penny)
I tested almost my entire collection of CD. but i only selected a few that can significantly shows a different and have their sound characteristic described as below.
Female Vocalist
1. Faye Wong "tiankong" - Tiankong unplug. Anniversary Cable shows significantly obvious better treble extention to Van den Hul. However, sometime it is VERY slightly overdone.
2. Jennifer Warners - The Hunter, Track 7, light of Lousianne, Anniversary Cable indeed shows a lot of detail. However, micro-detail such as far side echo at very low volume is very hard to distinguish as compare to VDH, and sound stage is also shrinked. Track 8, Way down deep. Anniversary Cable did perform slightly better than Van den Hul as it does provide slightly more deep bass extension and quantity.
3. Janis Ian -Breaking Silence Track 7- Walking on sacred ground. The sparkle treble of this cable makes this cable sounds very exciting compared to VDH. The VDH sounds slightly dull and boring as compare to this. However, for this cable vocal sound is much more out-standing from the music. The vocal is really prominent as compare to the music. Anniversary cable able to project very obvious staging and positioning of vocals. Separation of the musical instrument is very slightly smeared.
4. Jheena Lodwick - All my Loving - Track 8 Perhaps Love, this cable really able to shows the shape of mouth of singer. Mid-range is excellent. However, on some parts, the mid is slightly lack of the thickness. On some part. The mid is very rough and grainy. VDH is smoother, but some places of saliva sound is less obvious as anniversary cable.
Male Vocalist
5. Andrea Bocelli- Vivere – La Voce Del Silenzio, on male vocalist, the sounds of anniversary cable is grainy compared to VDH cable. And VDH did play the vocal sounds sound much more stable and matured as compare to the anniversary cable.
6. Andrea Bocelli- Amore – Ama Credi Evai (because we believe) this track yet proof that anniversary cable provide a slightly smaller sound stage but focus sound stage as compare to van den hul. Some parts of the song, the anniversary cable sounds slightly messy, perhaps due to the reason the cable isn't cooked as much as VDH. So I will hold my opinion on this part.
7. Josh groban – Josh groban – You're still you, to where you are, Vincent For this several track, VDH did better on vocal as it has better integrations of mid to bass. Where there's a lot of vocal sound when he sing low, anniversary cable seems to muffle that part out. Lower detail of VDH can still clearly audible.
8. Josh groban – Closer – My confession, when you say you love me – perhaps the recording of this album is noisier, separation of the music when everything blasted on is very annoying on anniversary cable. Maybe due to burn in problem, the VDH did perform better on this track especially a lot of instrument is played at the same time. VDH has slightly better separation.
Musical Instrument
9. Gabrielle Roth and the Mirrors – Totem – La Cancion De Manuel – On this track anniversary cable sound slightly slower than VDH, lower bass of the drum sounds very impressive; the sparkle of the treble makes the soundstage of the track super wide, decay of treble and environment is clearly audible. On the other hand VDH doesn't make the bass as deep as anniversary cable, but the bass slam of the VDH did give a fast sounding feeling, hence bring out more tempos, more rhythmic.
10. Manger – Jazz variants – Big bass on this track is played better on anniversary cable. But VDH has slightly more organized 3D soundstage. I will rate both cable perform similar on this track
11. Asian roots- Take Dake with Neptune – Japanese roots, Five Nodes – For this track VDH has slightly more mid bass compared to anniversary cable. Hence the knocking sound of bamboo is played more realistic on VDH cable as compare to anniversary cable. But the soundstage of anniversary cable is slightly more obvious than VDH.
12. Antonio Forcione Quartet in Concert – Tarantella – again the grainy of anniversary cable is very obvious especially on guitar strike. Some nylon string guitar might even sounds as steel string guitar. Some parts of the songs the anniversary cable sounds slightly messier. But the soundstage is the best among all three cables, positioning of the cable is indeed the best too. Overall this cable is more analytical than the other two. But for VDH it is much more musical, detail not as emphasized, but overall balance is very well done.
13. Kenny G – Breathless XRCD– the Joy of Life – on higher pitch of saxophone at the beginning of the track, only VDH can consider sounds good on this CD. I tried to burn in anniversary cable for this song. Even clamp a ferrite ring on the cable to tame the high, it is still consider harsh.
Orchestra
14. Tutti Orchestral Samper – Antionio Vivaldi
15. Neujahrskonzert 2008
16. Cincinnati Pops Orchestra – Erich Kunzel - Ein Starussfest
For Classical/ Orchestra, Anniversary cable does make the sound livelier than VDH cable. VDH cable on the other hand seems to restrict slightly bit on the dynamic range. Hence making the sound is not as exciting as it shall be as compare to live concert experience. I had tested several disc of MPO recording. In my opinion that the tremble and tonality of VDH cable is slightly closer to live performance, perhaps due to it's superior mid projection. But it just don't get the right feeling of live. However anniversary cable does makes overall sound more energetic. Put it this way. On VDH cable, all the player of musical instruments is less powered, while on the anniversary cable. treble is smack harder, piano were played harder, and so on.
Overall impression:
Anniversary Cable
1. Vocal is pop out
2. Soundstage is slightly smaller than Van Den Hul but with better focus mid range.
3. Better lower bass extension than Van den hul , while Van den hul provide more slam.
4. Treble is more sparkle than D102
Van den Hul D102 MKIII (DIY price RM 550)
1. Soundstage is best among all three.
2. Slightly lack in treble sparkle compare to 1st anniversary
3. Slightly less deep bass, more punch.
4. Wider separation of instrument as compared to anniversary cable.
5. Better stage imaging, very clear positioning.
Penny ( RM 170)
As above, I do not compare this cable directly with the VDH and anniversary cable, because that this cable does has slightly more limitation as compare to the two cables above. However, overall, this cable has similar sound characteristic of VDH.
1. Smaller sound stage.
2. Messy separation if compare to 1st anniversary
3. Tonal balance is slightly better than 1st anniversary
4. Imaging is over large, wide, but unfocused...
5. Vocal is slightly harsh and detached from music obvious..
6. Slight sibilance is presented.
Please do take notes that all these three cable were quite not bad. The different I describe were "highlights" of the characteristic, which I spend exactly one month time to get used to the cable to spot the different..(sorry godluvsxs for long delay). it may not sounds as obviously different on different setup if you have chances to audit the cable. and I was paying really high attention to spot their different. I would say that for normal music listening, either one of these three cable were way beyond the basic needs.
Verdict:
For some setup like Wharfadale Diamond 9.1, or AEGO M setup. Please do consider Penny. It very worth and will bring significant improvement to the setup. I did tried the same three cable on my AEGO M setup. But it doesn't show a very significant improvement even comparing the Penny VS 1st anniversary. And the improvement of the Penny cable on AEGO M is VERY VERY VERY impressive to my ear. The Penny cable might need slightly longer time to burn in.
For speakers like EPOS ES / M series. Please do consider 1st anniversery / Van den Hul D102. Because the difference of these cable will become obvious above this price range.
Built quality :
I can say that the built quality of both penny cable and 1st anniversary cable is TOP NOTCH.
even myself also amazed by the "beauty" of the cable. especially the white sexy sleeving on it..
TWO THUMB UPS for the external built quality.

godluvsxs

Dealer\Reseller\Trader\Service Provider





Number of posts

: 2


Age

: 36


Location

: ipoh


Registration date :

2009-01-22



---
Permissions in this forum:
You
cannot
reply to topics in this forum