Clearance stock !!!
condition 8.5/10
Original adjustable stand included
Price : SOLD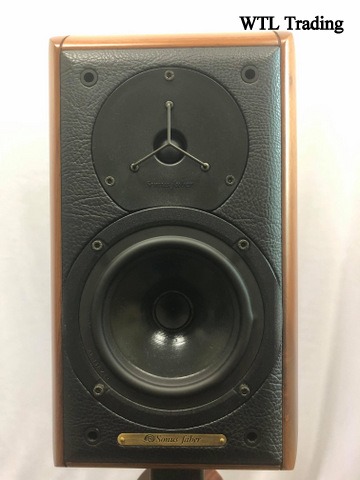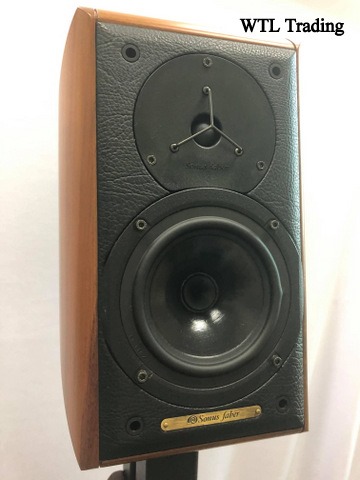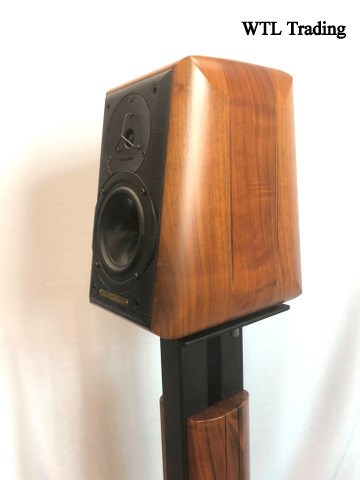 Description :
The Sonus Faber Signum familiarly exotic cabinet is constructed from struts of solid walnut with internal copper and lead bracing. A two-way reflex design and ported at the rear, the Signum sports a 20mm silk-dome tweeter and 150mm fibre-glass multi-coated mid-bass driver, crossing over at 2.5kHz. Both transducer units are customised ScanSpeak designs, and the tweeter is physically protected by a raised, three-spoke grille. Sensitivity is 87dB, but the 4ohm load the Signum presents should not drain modestly-powered but well-designed amplifiers--power handling is quoted at between 30 to 150 watts. Significantly, the manufacturer claims frequency response down to 40Hz (and 22kHz at the other extreme), surprising for this eight-litre box which weighs in at 21kg for a packed pair. The Sonus Faber Signum appears to be actually approaching this frequency floor, if not actually nudging it. Recommended placement is well away from side and rear walls, toed inwards for optimum results. Bi-wiring facilities are provided, but the gold-plated terminals also come with metal jumpers should the user opt not to do this.
The first thing that comes across is the listener is the sheer neutrality of the Sonus Faber Signum. The vocalists do not seem forward or stand out of the mix of music, each instrument has its own place but the entire picture is always coherent, and it is rather hard to trip these things up on coherency. The midrange, however, is simply one of the most natural, open sounding midranges a person can ever hope to hear. Definitely a lot less of a "boxy" signature than many other speakers with its openness, which extended from the upper highs to the mid-bass. The smaller Sonus Faber loudspeakers, despite the acclaim accorded them by critics, have on numerous occasions been perceived as lacking bite in the bass department. This does not happen to the Signum where the bass is extremely tight and controlled. Acoustic bass recordings are reproduced with faithful adherence to the performing nuances; even on complex percussion recordings, the Signums do not show signs of losing their grip over the lower extremeties.
The Sonus Faber Signum weaves the music as well as the electronics permitted. The system is not the last word in pacing, but it is definitely adequate. The sound does not hurry in any way and there is no doubt that the Signums can handle classical and alternative and vocals very well, considering these are monitors, not 4-way 8' tall floorstanders. Yet, despite the transparent nature of the Signums--amp and other ancillary changes are duly obvious during delivery--and their bold staging and layering abilities, the Signums are hardly fatiguing. The Signums empathise with the inherent nature of the recordings, reflective tunes being imbued with the right level of intimacy, and more urgent pieces reproduced in all their dynamic glory; these speakers would not lag in rhythm or timing. The Sonus Faber Signum are strongly individualistic speakers that make very good sense, appealing to the soul of the listener without in any way infringing upon his sense of objectivity.
Specifications:
• System: 8 litres two way rear reflex port.
• Tweeter: ultra dynamic linearity driver, 20 mm silk dome no ferrofluid, designed to obtain the best impulse response.
• Mid-woofer: ultra dynamic linearity driver, 150 mm fibre glass multicoating cone, designed to obtain the best impulse response.
• Crossover: 6 dB\octave acoustic, cross-point 2.5 kHz, very high musical value components.
• Sensitivity: 87 dB \1 W \1 mt.
• Impedance: 4 ohms nominal.
• Connection: Bi-wiring.
• Power handling: 30/150 W without clipping.
• Frequency response: 40 Hz - 20 kHz, tuning port included.
• Cabinet: individual struts of solid walnut construction, lead and copper parts for resonance control.
• Dimensions: 205 x 300 x 325 mm (W x D x H) - 8 x 12 x 13" (W x D x H).
• Weight: 21 kg.
Please contact us at 016-725 5372 (Wendy) or 012-614 3049 (Ms.Wee) for further detail or to arrange for a demo in our showroom situated at Taman Melaka Raya , Melaka.

Mode of payment : 
- COD Anywhere in Melaka town area
- PBB / MBB of  purchase outside Melaka.

aiyen

Dealer\Reseller\Trader\Service Provider





Number of posts

: 1190


Age

: 43


Location

: Malacca


Registration date :

2010-08-24



Similar topics
---
Permissions in this forum:
You
cannot
reply to topics in this forum